Greetings everyball and welcome to a new blogpost!
With Gamescom 2023 just around the corner, we of RadicalFishGames are excited to announce to not only attend but also have a booth there this time! You can find details further down, if you are interested in visiting us and test a current build of our new game, "Project Terra"!
Speaking of Project Terra, progress has been made since our last post on here, including but not limited to new environment, NPCs, working on the first dungeon and actually executing early parts of the story!
Radical Fish at Gamescom 2023
Gamescom 2023 is coming back to Cologne on the 23th until the 27th of August 2023, with the 23th only being available for trade visitors and the media.
After only being visitors ourselves for the past few years, we will actually have our own little booth this year where we will be presenting an early built of Project Terra! It will of course be short and not have all the features, but we would still be happy if you visit us and give us your feedback on the current game feel!
You can find us in Hall 10.2. somewhere at booth E020g – D021g as part of the combined delegation of Saarland and Rheinland-Pfalz (Rhineland-Palatinate). That means that we are not part of the Indie Arena this time, but it's pretty close to us and will surely be worth a visit as well!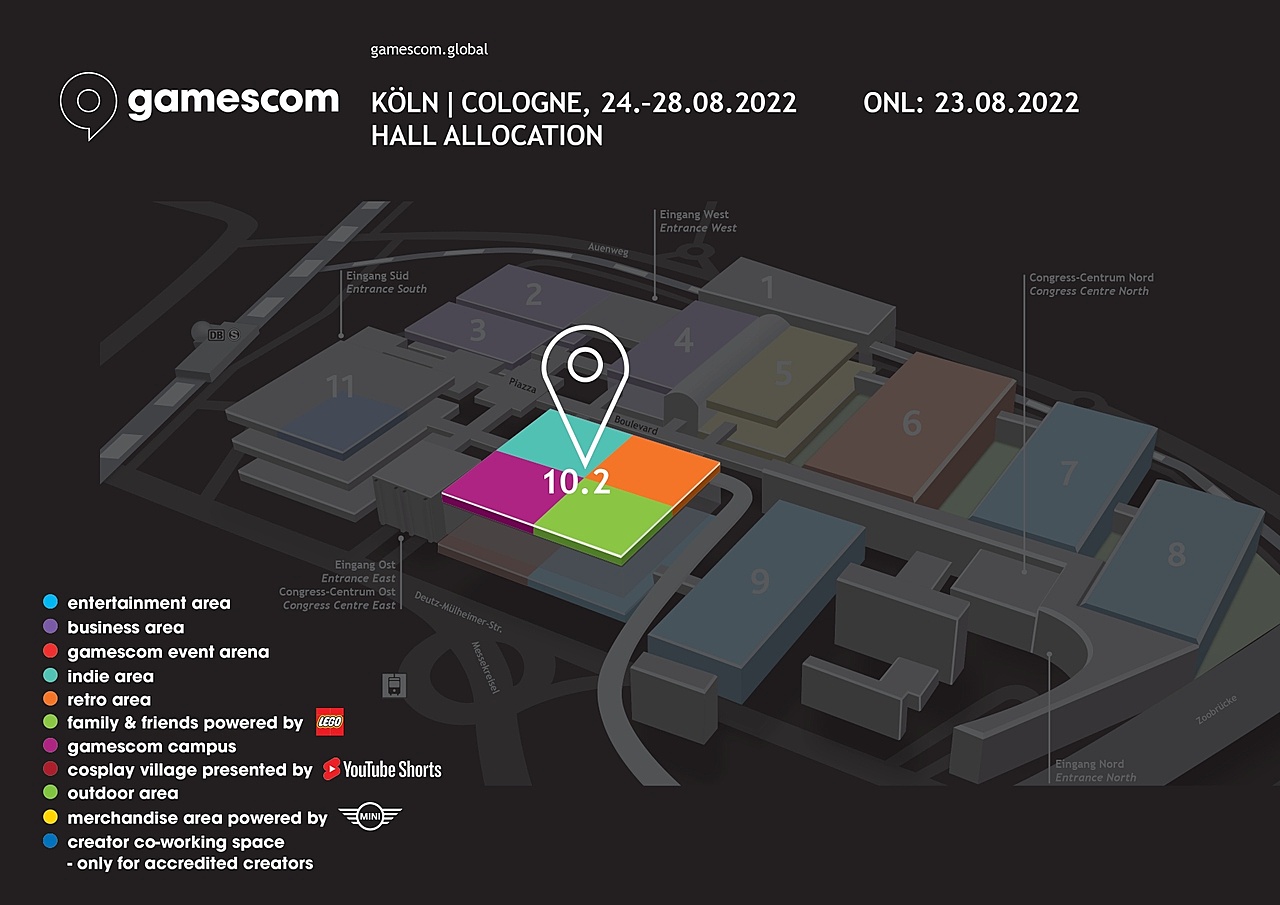 We hope to see you there!
Note that we're planning to only be at the booth from Thursday to Friday – no promises for the weekend!
Recent Progress on Project Terra
Development on Project Terra over the last months progressed at a steady rate. Though we admittedly haven't come as far as we originally planned, we are now feeling the advantages of our new development tools that we spent a lot of work on. So we are very optimistic about the future development.
This is most pleasantly felt when working on actual content in the form of new events and scenes – something we can finally focus on. Here you can see one of the very first cutscenes.
Time for another #ProjectTerra #gamedev update! This time we have a big one: we're finally working on proper scenes!
With portraits! And talking!#indiedev #pixelart #ドット絵 pic.twitter.com/KLiGDRLqnD

— Felix (@lachsen) August 10, 2023
Speaking of scenes, our artists have been hard at work with new NPCs! We want to have a wide variety of easily recognizable characters in our game that are much more animated than in CrossCode. Our new animation system and character editor ensure that the amount of work will still be feasible!
Here are some #ProjectTerra chars in our figure editor. It allows us to stick to a pixel art look but assemble and animate in elegant ways.

Sprites are displayed/rotated/exchanged dependent on their bone-angle in context to the viewer.

#gamedev #indiedev #pixelart #ドット絵 pic.twitter.com/DyU4vPga5h

— Thomas Fröse (@ThomasFroese) August 11, 2023
In terms of locations, a special new landmark called the Wellspring has been implemented. It seems to be in the middle of a settlement and looks pretty, so it must be important, right?
Here's a closer look at one of our more unique assets for #ProjectTerra , The Wellspring 🌿

big thanks to @ThomasFroese and @Indofrece for creating the Pixelart for this one!#gamedev #indiedev #pixelart #gameart pic.twitter.com/Nez8VDPNdu

— Sibylle Hell (@Nomnomroko) August 11, 2023
Then there has been work on the first dungeon that the player can visit, which will also set up many of the core puzzle elements that players will encounter in Project Terra! As you can see, this time your companions will actually join you in the dungeons and support you with solving the puzzles.
Also note those new and improved lines on the ground!
An early look at the first dungeon of #ProjectTerra that you will explore alongside your companions.

Warming up with some straight forward switches and box-pushing (with help!).#gamedev #indiedev #pixelart #ドット絵 pic.twitter.com/vYfPKNLvsn

— Henning (@GFluegel) August 10, 2023
A lot also happened on the audio-visual side starting with improved hit-effects and animations with freeze frames.
This also includes new effects for the healing plants you destroy to recover HP and the always crucial enemy explosions getting revamped.
Today I show you some of the early combat in the #ProjectTerra. Pay attention to all the pretty effects happening!#gamedev #indiedev #pixelart #ドット絵 pic.twitter.com/U11p3DAnhW

— Teflora 🏳️‍⚧️💖💜💙🏳️‍🌈 (@teflorator) August 11, 2023
On the menu side, a lot of progress has been made with the map and skill menu. The later also shows the structure of the skills, however the actual nodes and their placement are still work-in-progress.
Sneak peak at the recently finished map menu and the still WIP skill menu.

Each weapon has its own skill tree + an extra one for passives called "core")#ProjectTerra #gamedev #indiedev #pixelart #ドット絵 pic.twitter.com/EQ1y4t2HK9

— R.D. (@RadicalRegiden) August 10, 2023
And that's it for now. As usual, don't forget to follow us on Twitter X for more regular updates!
Hope to see some of you at Gamescom! And the rest of you when the next Blogpost comes out