Just a quick post to clarify something a lot of people might be wondering about.
With E3 2015 just around the corner a lot of people might be wondering whatever happened to IndiesCrashE3 and their IndieClicker minigame. Back then we were able to secure a place among the Top5 and would therefore be able to get a ticket to this years E3. Right?
Well, in truth there are a few problems regarding that.
First of, it would be very expensive for us to attent E3, even with the sponsored tickets. We would need to fly from Germany to the USA, pay a hotel stay for those days and also lose time that we could spend on development. Even with the successful IndieGoGo campaign and the well running EarlyAccess on Steam that's quite a costly expedition for a studio as small as our's.
Secondly, the people of IndiesCrashE3 have been rather silent towards us and not answered the questions we had about the whole organization. Basically we only knew for sure that we would get normal visitor tickets to attend. Everything beyond that was questionable.
Lastly our publisher Deck13 will already be attending E3 this year and also promote CrossCode as part of their lineup, which is more than we could do with our normal visitors tickets. So our attendance will not even be required to represent our game.
Overall we can summarize that attending E3 would not be worth the expenses in money and time for us and decided against it.
We are sorry to disappoint everyone who supported us with that IndieClicker minigame, but we believe concentrating our efforts on the game itself will be the best way to honor your trust and efforts.
And, after all, that campaign was pretty fun and exciting overall and really helped us in terms of marketing during the crucial time of our crowdfunding campaign, so it wasn't for naught!
That's it for that topic.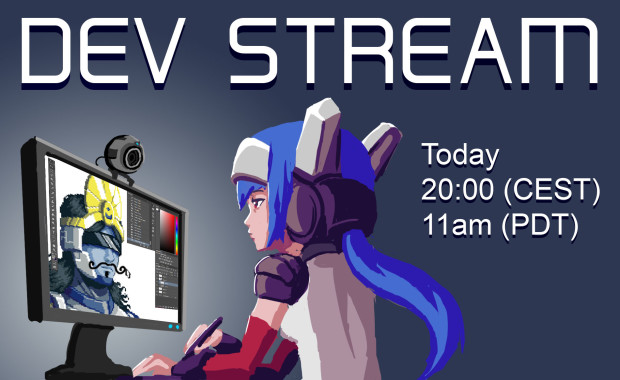 And before we end this post I want to give you a quick reminder of our Weekly Developer Stream that will start in around an hour at 20:00 (CEST) / 11 am (PDT). Felix will Stream again and Stefan will keep him company over Skype, so visit our channel if you are interested and want to ask questions:
www.twitch.tv/radicalfishgames
See you there or at our next proper update!